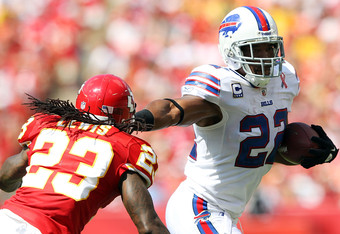 As usual, the Bills fought hard in a close game but were unable to...what's that, they won? Good God.
Yes, I've double checked and it turns out the Bills have defeated the Kansas City Chiefs 41-7 at Arrowhead Stadium. The Bills dominated in all three phases of the game against the defending AFC West champions, turning three Chiefs turnovers into 17 points. New starting tight end and resident yokel Scott Chandler caught two touchdown passes from Ryan Fitzpatrick, who threw four total on the day (the other two were to Stevie Johnson and Donald Jones).
The Bills much maligned defense (dare we say it) dominated the Chiefs offense, allowing only 227 total yards against a team that run for 274 yards against them last year. The Bills surrendered only one long touchdown drive, an 11-play, 81-yard drive at the end of the first half. Jamaal Charles, who last year torched the Bills for 238 total yards, managed just 65 yards (although he did score the Chiefs lone touchdown).
Thoughts:
- Excellent use of waggles and rollouts by Bills offense. Using Fitzpatrick's mobility helped keep the Chiefs defense off balance, and more importantly, kept him off his back.
- Speaking of keeping Fitzpatrick off of his back, a hat tip is due to the Bills O-line. I'm sure most of us were expecting our line to be 1600 pounds of human misery against even an average pass rush, but they did very well, even if Tamba Hali did manage to rack up a sack.
- No one who watched the game could doubt that value of Fred Jackson to this offense, but I thought Spiller ran reasonably well during his few carries. I'm sure folks will have a problem with this stat line (5 carries, 16 yards, 1 TD), but I thought he was much more decisive than what I'd seen last year. He didn't get a lot of assistance from the line in his limited carries, but he made the most of them.
- The defense was much better at dealing with delays and draws. They did allow one big play to Dexter McCluster, but in general they were able to hold contain.
Next up for Buffalo are the Oakland Raiders, led by undead owner and GM Al Davis. It'll be another excellent test of our re-vamped run defense, and also a chance to use some of the value pack garlic the Bills picked up at Costco.
(Photo by Jamie Squire/Getty Images)